Stockport County- the Land of Hope and Dreams
My long awaited first visit to Edgeley Park was one that I will never ever forget!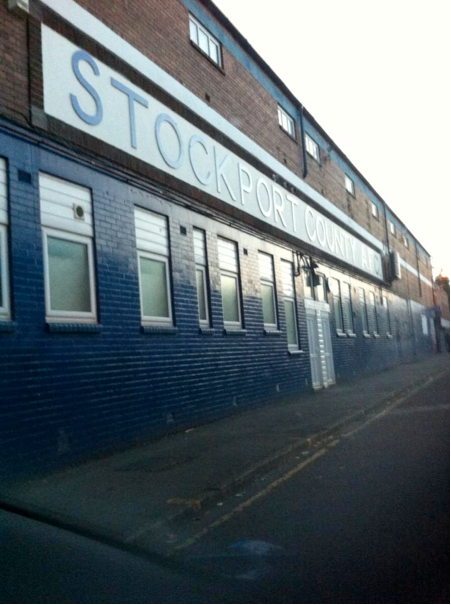 I remember all those years ago when I first heard about Stockport County when I saw an advertisement in a magazine and on their website, looking for supporters to adopt them as their second team. This was around the time of the American take over at Manchester United with the Glazers and Stockport had a wee play on the fact that you could have bought shares in them for less than you could Manchester United (obviously) but this got me hooked and I became friends with a County fan called George Hudson who was shocked that someone would just want to be involved with his team, purely for the love of football.
Many a day I had to wear my lucky t-shirt or top, in the hope that Stockport County would gain three points!
I ended up getting Stockport County, tops, scarves, books, programmes including the famous Play-Off win v Rochdale and was introduced to two guys Des Hinks and Phil Brennan along with Mary McGee Wood and again I not only joined the Trust but I was invited to write for the Stockport County official programme, which has won many awards by the way!
Since being introduced to the club all those years ago, my love for them has grown and I have watched them hit the highs of the Play-Off final win v Rochdale, to the lows of being relegated from the Football League to the Conference and now the Skrill.North Division.
As each year passed, I became more interested in what was going on off the pitch and I was introduced to people from the club who knew of my interest from afar and thought that this was quite amazing that I should take an interest in Stockport County when I had other teams to follow but as George said all those years ago, it was for the love of football that made me want to know more about this football club.
I have been lucky to be enough to be introduced to some fantastic people involved with Stockport County over the years thanks to George, Mary from the Trust (now Co-op), Des Hinks from the programme and someone who has lifted me to new heights in writing for the programme as he has become more than just someone to e-mail my stories too, the man who helped County Life to many Programme of the Year Awards and who made this long awaited visit all possible for me, the legend that is Phil Brennan.
I had been asked to come to Edgeley Park before as part of the team which won a programme of the year award on a couple of occasions but I had to decline due to work commitments but my circumstances have changed and I no longer work every Saturday and so when the option to go to Edgeley Park came up this time, there was no hesitation, the only difference being that I would not be travelling alone.
I had two coaches from St. Mirren Youth Football Club with me, Iain MacMillan and Will Devlin, who both are interested in making a name for themselves in coaching down south one day and they thought that this was a great opportunity to take in a match and see the standard down south and they were happy to take up the invitation also.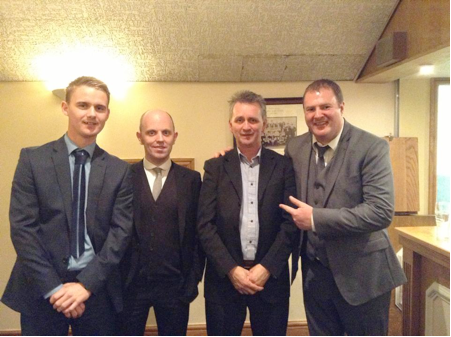 Our journey started off at 6 am in the morning from Glasgow and our day ended at 01.30 but the long and winding road to Edgeley Park and back was well worth the lack of sleep and even the detours could not dampen our spirits after the fantastic day we were about to have.
When we eventually got to the Stadium, my stomach was turning with butterflies, the kind normally reserved for a player who has been told he is playing in a big match or perhaps your first date !
As we turned the corner all we could see was the sign I had been waiting to see for years and had only seen on the website, "Stockport County FC"!
We parked the car in the car-park and stood looking at the stadium in front of us; this was a special moment for me.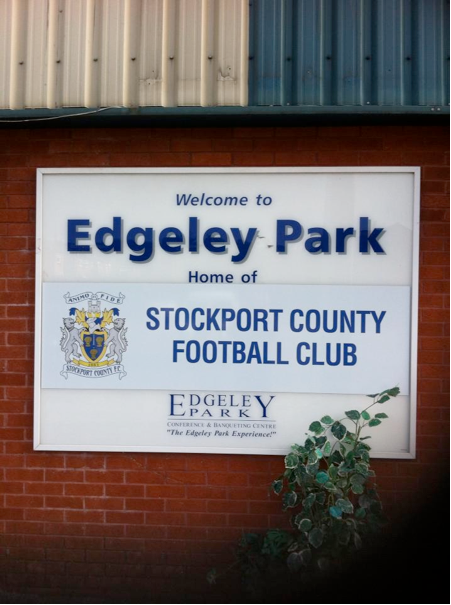 After that we went to stretch our legs and take photos of the sign, looking like typical tourists when suddenly a grey haired man came out and said, "Come over and take photos inside lads!"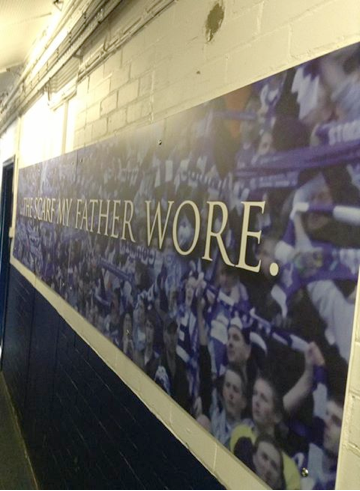 Now this man did not know us from Adam but this was what today was going to be all about.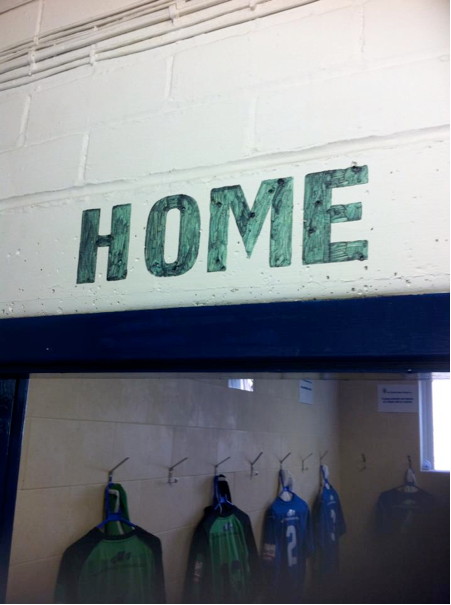 As we walked towards the stadium, I could feel that this was going to be special and it was better than I could ever imagine - the man in question was none other than club legend, Rodger Wylde!
We had a great little chat with Rodger, he told us that he played in Glasgow in 1983, straight away Iain and I clicked that he must have played against Celtic for Sporting Lisbon in the UEFA Cup, I was at that match that is why I remembered it so well. Sporting had won the first match 2-0 but Celtic beat them 5-0 in the return.
Rodger was great with us chatting and posing for photographs, you could tell he was a decent guy and a real character straight from our first meeting with him.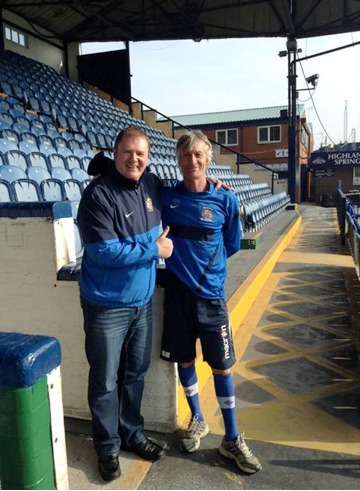 After meeting Rodger, he gave Phil a call to tell him that we had arrived and meeting Phil for the first time was a bag of mixed emotions for me as I found out that this was to be his last game (last programme too).
I was delighted to meet Phil after so many e-mails and stories sent over the years and you could tell that he was not only a great guy but this guy made the place tick and everyone loved him, including me and the boys.
Phil was a huge part of the reason that I kept on writing for County Life over the years with the "Across the Border" section and he was the reason that it won so many awards over the years; it was such a privilege to work for him.
He gave us a guided tour behind the scenes at Stockport County and it was fascinating to see the club from the inside, such an honour for me especially as he made sure that I would have a day that I would never forget but also give the boys a great day also.
We met many folk on our trip round the stadium CEO Ryan McKnight, Chris who sends my programme out and is the Chairman of Cheadle Town but have never seen them for years due to him working at Edgeley Park on match days.
Perhaps the place where my wife Tracey dreaded me going the most was the club shop.... and I did add to my collection of tops, this time the Blue and White away one, love the retro look but I could have bought the home one and another couple as well as two t-shirts and a history DVD if there was any left but perhaps today I would be looking for a new home if I did! Although Tracey did manage to get me a match worn top on e-bay with Allen number 4 on the back when I had to work late!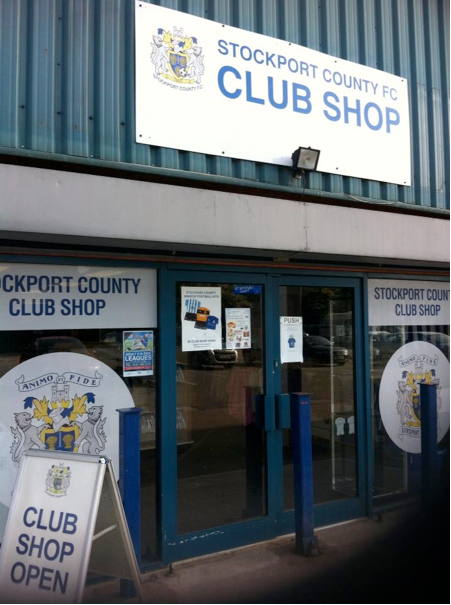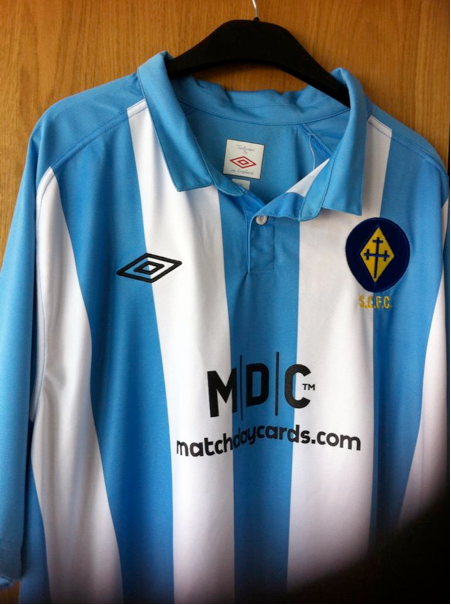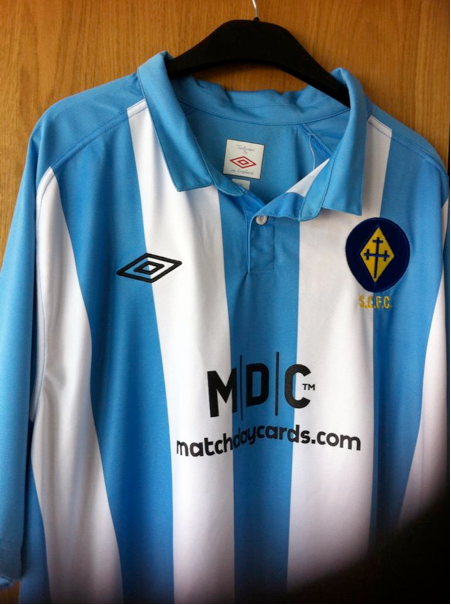 Phil was great with us inside the ground telling us various stories but he also told us the best places to go to meet up with County fans and both pubs were fantastic that we made trips too, the Armoury where we met Lancs who does the County fanzine (When I was young and lazy) and the Sir Robert Peel where I met George for the first time.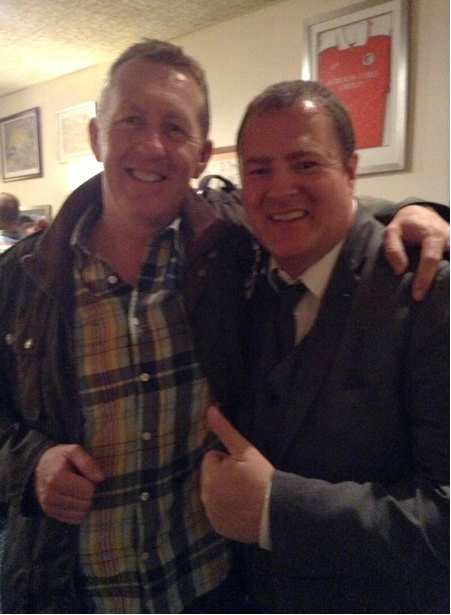 Now this was like two guys who have only been e-mailing each other like pen-pals for maybe six or seven years but after this it felt as if this was a regular meeting. I just had this feeling that after chatting to George and various other fans that this was a special club and it creates the family club type of atmosphere but the supporters don't expect much from the team after recent disappointments.
We made our way back towards the stadium in plenty of time to take our seats, mine was in the Press Box to take notes on the game, which was a thrill and surprise for me but it was explained to me that the BBC don't send anyone to cover Stockport County anymore since they have fallen out of the Conference, I could not believe it.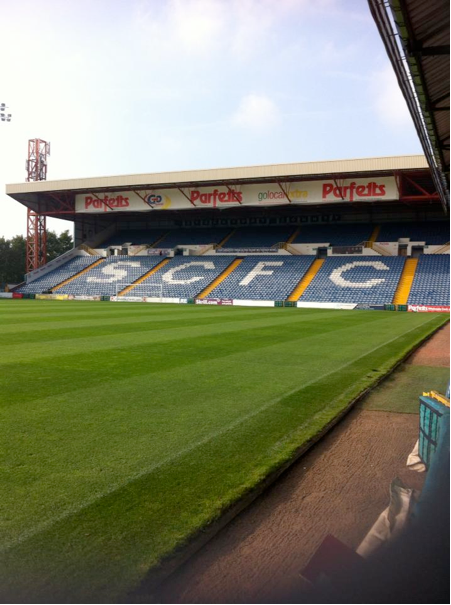 There is a proper football club here, with proper fans and football surroundings and it makes me angry that perhaps some of the fans who have a great club on their own doorsteps, feel the need to go and watch City and United, you could see this by the amount of fans wearing the tops of both clubs in the city centre as I was walking with my Stockport County one on.
These people don't know how lucky they are having a football club on their doorstep.
We had changed from casual to smart for the game and we wanted to make the right impression on the good people of Stockport and I think we did.
The game itself was full of interest for all sorts of reasons.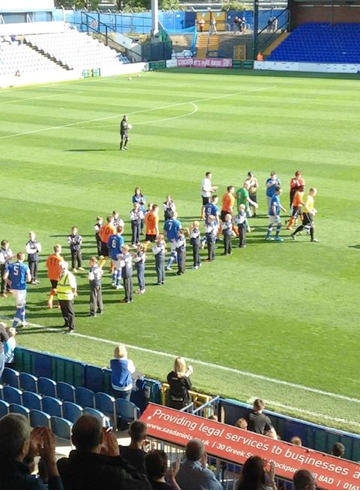 This was an FA Cup qualifying match, none of us had ever been to an FA Cup match of any kind so this was a first for all three of us and it would not disappoint.
Both clubs went into this match knowing that this could be a step on the road to a bumper pay day if they could negotiate this match.
Brighouse Town are a couple of divisions below Stockport County but on this showing they won't be for much longer.
They were a credit to their manager Paul Quinn and fantastic supporters and could easily have been three up before the half time whistle.
Stockport had chances too but must have been pleased to get in level at half time.
The goal which won the match would have graced a World Cup final or a Champions League final such was the quality of the strike from Kyle Jacobs.
He cut inside a couple of Brighouse players and rifled a fantastic shot from around 25 yards into the top corner.
But Brighouse never gave up; they kept going till the final whistle and almost snatched a late equaliser on a couple of occasions but County held out to go into the hat for the next round.
After the match we got the chance to see Jon Keighren conduct the after match interview for County TV along with Stephen, it was interesting to hear Alan Lord say that the club struggled to fill the bench as players had come down with flu and various injuries but they got there with that great strike.
We then went on to the Players' Lounge where we got the chance to meet up with George and talk to Alan Lord and Paul Quinn before being entertained, off the field this time, by the Brighouse Town players singing and dancing.
I noticed that both on and off the field there is a more relaxed atmosphere and more respect at this level of football between teams and fans of both clubs and it was very refreshing to see.
We managed to have a great conversation with Alan Lord and he was delighted to see that we had come down and said we were welcome to come back anytime - that cannot come soon enough! (I was delighted to hear that Alan got the job on a permanent basis this week after the club's 4-0 win, he deserves his chance to try and take County back to where they belong).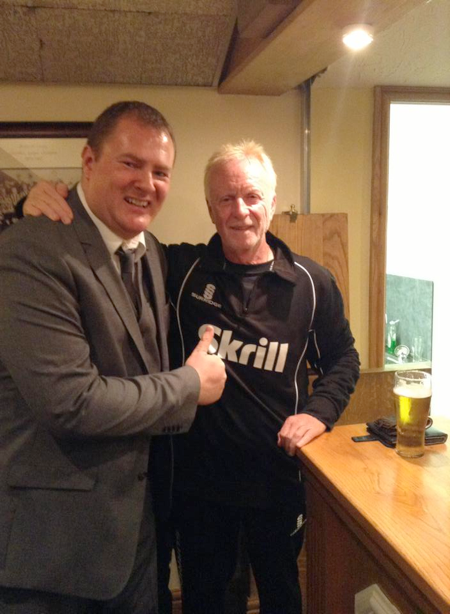 As the part of the day was coming that I was dreading, walking out of Edgeley Park, we managed to get chatting to a few chaps who took an interest in us as we made the journey from Scotland.
It turned out that these chaps were from a company called Sapphire, and one of them was John Whelan the grandson of County's all time record scorer Jack Connor.
John was interested in chatting to us after Phil he introduced me as the man behind the feature from Scotland "Across the Border" and I introduced the boys also to him and they very kindly invited us to join them for a meal but as we had to travel back to Scotland, we had to decline the offer this time but perhaps there will be another time as the conversation was starting to get interesting before we left.
So this magical day that I had waited so long for had come to an end and it was everything and more that I could ever hope for.
And to round it all off, Phil gave me a chance to hold some special trophies to make my day complete, the Play Off trophy and the World Cup trophy that England won in 1966, (the Jules Rimet trophy) both replicas but both special for me.
Good Luck to Stockport County in the future, this hopefully won't be the first and last time me and the guys will be down to see you!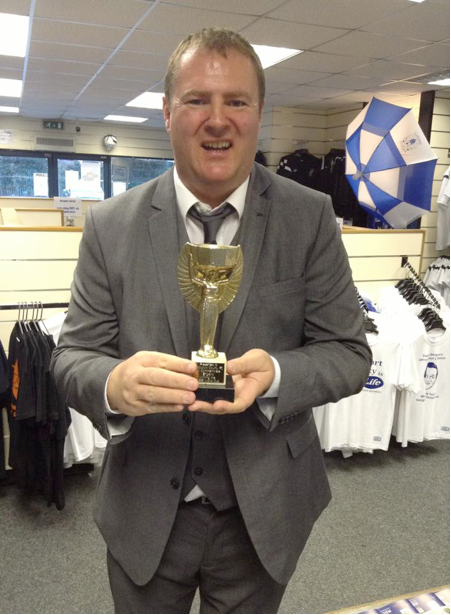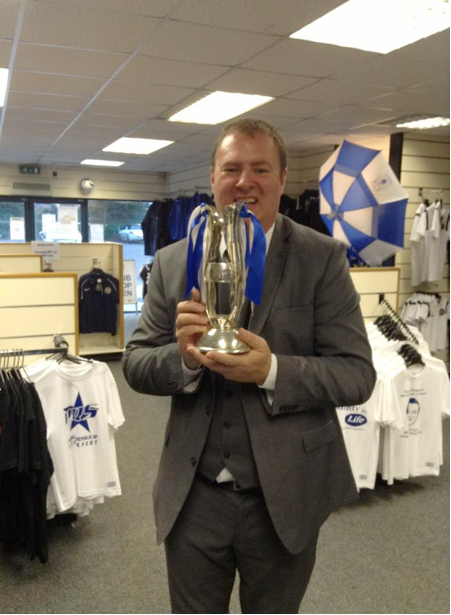 I just wish that someone somewhere would see the potential in this club and its fantastic fans and give them a chance to dream and believe again, it is so sad to see a football club on people's door steps being forgotten about as many head to see bigger teams and stars in the Premier League.
I am not saying don't do it but many years ago I saw that advert about Stockport County and ever since then I have been a fan but there is nothing wrong with watching Stockport when United or City are not at home .
They are a fantastic, friendly and loyal bunch and I am delighted that I finally managed to get to see them so thank you to everyone at Stockport County for having me and the boys down and thank you to Brighouse for being such a credit too, just a great day that I will never forget it only saddens me that Phil is no longer a part of the club after the fantastic job that he has done there.
As it stands, this will be my last article for County Life, writing for such a great football club and bunch of fans over the years, I have loved every minute of it, thank you for giving me the opportunity to be part of an award winning programme and very best of luck to Chris and the media team for the future, keep up the good work.
And for any businessmen out there looking for a club to put money into, a club with potential and loyal fans in good times and in bad, look no further than Stockport County, you won't be disappointed.
Now things have moved on a bit since my last visit to Stockport County.
There have been many changes at the club and results had been poor over the last few weeks and the fans could take no more and they went on a protest march which was organised by the Sea of Blue
on Saturday 21st December 2013.
The club and its future were in a drastic state and something had to be done about it, hopefully people listened!
Too many good people are leaving Stockport County as I have said one of them my friend and former media manager, Phil Brennan, has turned a negative into a positive and has taken time out to bring out a book called, The Man from Uruguay about County's former manager called Danny Bergara.
Now, Phil leaving Stockport County did not mean that his love for the club was going to end, far from it.
In this book, Phil gives us an insight into what made Danny Bergara such a popular man and coach in his days with Stockport County and various other clubs.
In recent years English football supporters have seen the impact that Arsène Wenger, José Mourinho, Rafael Benítez, Carlo Ancelotti, Roberto di Matteo and Roberto Mancini have made at the top level in club football. Even the English national team has been managed by foreigners Sven-Göran Eriksson and Fabio Capello.
Long before foreign managers were commonplace in the English game, Uruguayan Danny Bergara had already blazed the trail for the rest to follow.
Bergara is linked with several English football clubs, most famously Stockport County, although it is a little known fact that he was used as a scout and coach by Dave Mackay when his Derby County side played Real Madrid in the European Cup 2nd round way back in 1975. He also spent a two year period working for the England youth team as assistant to John Cartwright, the first foreign national to do so, almost twenty years before Eriksson took charge of the first team.
It is probably fair to say that without Bergara's success, both as a coach and manager, the influx of foreign managers into the English game may never have happened. Danny himself, although always believing that his methods and ideas would work, mentioned on many an occasion that he thought he had probably arrived in the country too early.
The Man from Uruguay tells Bergara's story from his days as a player in Uruguay and Spain to his superb coaching career in the country that became his second home, England.
From his early days as youth coach at Luton Town to becoming the first South American to be named as a manager of an English Football League Club at Rochdale before taking perennial strugglers Stockport County to promotion and four Wembley appearances.
His highly successful reign at Edgeley Park ended in very unsavory circumstances, and though he was to win his unfair dismissal case, Bergara was never again able to repeat his earlier success. A spell at Premier League Sheffield Wednesday alongside his oldest friend in the English game, David Pleat, was followed by unsuccessful stints at several lower league clubs. Bergara ending his career as a scout for Tottenham Hotspur, Sunderland and Wolverhampton Wanderers, who he worked for until his death in 2007.
He took this chance to bring out this book which he had wanted to do for a long time and the very least I could do on the Sporting Memories Network site was to let you know all about it as well as tell everyone about a fantastic day at Stockport County which will live long in the memory of the three boys who travelled down that day and the fantastic folk we met around the club.
In a year of sadness for me, this was perhaps one of the most special days of the year for me and I hope that the club can get back to where they belong in the near future.
It may have been our first visit to Edgeley Park, but it won't be our last!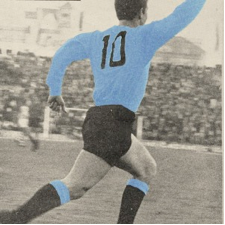 The Man from Uruguay is available from www.dannybergara.co.uk
Sean Graham

Follow on Twitter @FeaturesSean


"I am just a guy who has over 40 years of memories of watching various clubs and matches since my Dad took me round the grounds in Glasgow each week before we went to meet my Mum after work and we always went to the Berni Inn where I had scampi and chips !
From watching Aberdeen, Celtic, Rangers, Partick Thistle, Maryhill juniors and Scotland as well as watching Everton and Manchester United, I have plenty of memories to share for fans to hopefully enjoy and remember."
No comments have yet been added to this memory.
Add a comment