We were recently musing on these pages about who was/is the best television football commentator. Has anyone ever matched David Coleman's economy of language, John Motson's enthusiasm, Brian Moore's sense of occasion or Martin Tyler's Premier League mastery? Barry Davies has his supporters' too and some still hark back to the days of Kenneth Wolstenholme. Martin Kelner writes with authority on the subject in his masterful history of television sport, "Sit Down and Cheer."
I can't make up my mind on who's the best but I can tell you whose voice is inextricably linked with the earliest and happiest days of my football watching. Take a bow, Hugh Johns.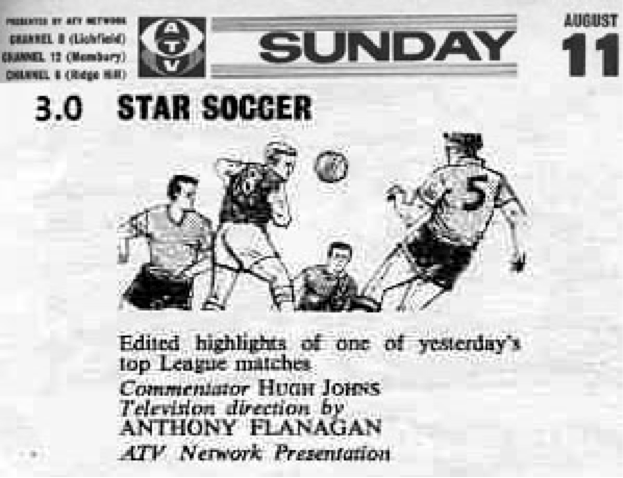 Hugh was ITV's Midlands commentator on Star Soccer, a staple part of the Sunday afternoons of my childhood. The programme normally started around 2pm and I'd always make sure I cleared the dishes after Sunday lunch in time to take my place in front of the television. I'd normally catch the end of the Sunday lunchtime adventure on ATV – "The Protectors" or "The Persuaders" in the early days, "Space 1999" or "Thunderbirds" in later days. That was always, and I mean always followed by a particular advert which is as much a part of my childhood as games of "three and in", top trumps or Slade on "Top of the Pops".
Star Soccer took in the whole of Midlands football at a time, unlike today, when the region featured some of the country's most entertaining and successful teams. Derby County's two league championships in the 70s mean nothing without the wise words of Hugh Johns. When Brian Clough turned up in Nottingham, Hugh was our guide to Tony Woodcock and the like leading Forest to the league title. In those far-off pre Premier League days when money counted for a little less tan it does today, it was possible for Derby, Forest, Aston Villa, West Brom, Leicester, Coventry, Stoke and Wolves to challenge for the title through footballing ability alone, rather than the size of the chequebook.
Hugh Johns' style was inclusive – he came across as much fan as commentator. He understood and loved the game and encouraged us to do the same. His style was very much his own. Asa Hartford once scored at both ends for West Brom against Arsenal 's double winners and Hugh was almost speechless when Asa put through his own goal:
"Asa Hartford will be sick, sick, sick, sick, sick."
Safe to day, Hugh didn't think Asa would be too chuffed.
Hugh Johns had – at one time – been ITV's number one. It was he who went head-to-head with Kenneth Wolstenholme at Wembley in 1966 and was ITV's man in Mexico four years later. But it was for Star Soccer, following the Davenports ad, that he'll be forever remembered. And if he did once say:
"The crowd urges the referee to look at his whistle and blow his watch",
then so be it. His contribution to the history of football on television was significant indeed. A Davenports, anyone? Hugh Johns
Duncan Jones
No comments have yet been added to this memory.
Add a comment